Sådan indretter du med pyntepuder
Sådan indretter du med pyntepuder
Pyntepuder er en vigtig del af indretningen i skandinaviske hjem. Uden puder og andre tekstiler kan den lidt rå og kolde indretning, nemlig hurtig give en følelse af, at man ikke er velkommen eller at hjemmet ikke er beboet. Det er der jo selvfølgelig ingen der ønsker og derfor er pyntepuder også i høj kurs.
Der findes uendeligt mange og diverse interiørbrands finder hele tiden på nye og spændende designs, som man får lyst til at eje. Men hvordan får man det maksimale ud af sine pyntepuder og indretter med dem på bedste vis, så både de er i fokus samtidigt med at være en del af helheder i resten af rummet? I indlægget her vil vi kigger lidt på, hvordan man bruger og indretter med pyntepuder i både soveværelse og stue og til sidste, vil vi afrunde med 5 gode råd til, hvordan man benytter pyntepuder i sin indretning på den helt rette måde.
Få et overblik over pyntepuder i de danske webshops her:  http://pudeguiden.dk/pyntepuder/
Hvordan benytter jeg pyntepuder i soveværelset?
For mange er pyntepuder i soveværelset ikke et must, men de flotte tekstiler er stille og roligt begyndt at tage deres indtog i vores soveværelser også og det giver rigtig god mening. Soveværelset er nemlig et rum hvor der skal være ro og balance. Det er i dette rum man lader op og forbereder sig til næste dags strabadser. Det er derfor vigtigt at man føler sig godt tilpas og kan slapper fuldstændig af.
Vælg pyntepuder med få og afbalancerede farver uden for mange mønstre eller i øjefaldende motiver. Placer dem på sengen ovenpå sengetæppet enten langs hovedgæret eller i en lille bunke i et af sengens fire hjørner. Hvis du er så heldig at have en lænestol i dit soveværelse, vælg da også en pyntepude eller to, alt efter størrelse, til denne, for at fuldende udtrykket i rummet.
Pyntepuder giver både en balance og en følelse af velvære til rummet og det giver også gode muligheder for, at side komfortabelt, mens man læse en bog eller et blad i sengen.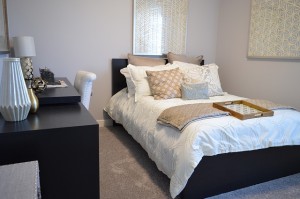 Sådan gør du din indretning med pyntepuder i stuen unik
Pyntepuder kan man med sikkerhed finde i stuerne hos de fleste dansker og i sofaen eller i lænestolen er også nogle af de steder. pyntepuder gør det allerbedst. Når man skal udvælge og indrette med pyntepuder i sin stue, er det vigtigt at man tænker over det overordnede udtryk og vælger puder, der både kan fungere alene, men ikke mindst i sammenspil med hinanden.
Hold dig til én farveholdning og hvis du ønsker puder med mere spræl og liv, så vælg da kun en eller to mens resten forbliver mere neutrale. Find en balance som du er tilfreds med og som giver dine pyntepuder den plads de har brug for, så de kommer til deres ret uden at tage fokus fra helheden. Leg med placeringen, så puderne ikke altid kun er placeret i en bunke i hjørnet. Man kan opnå så mange interessante udtryk ved at eksperimentere og ikke holde sig tilbage for at prøve noget nyt og spændende!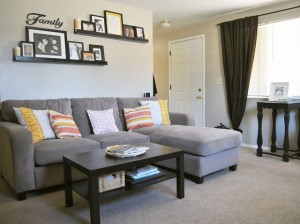 5 gode råd til indretning med pyntepuder
Find inspiration i blade, på blogs og internettet generelt, men hold dig ikke tilbage for også selv at eksperimenterer og være nyskabende.
Flyt jævnligt rundt og forsøg dig med nye kombinationer både i forhold til placering, men også sammensætning.
Lav en samling af f.eks. pudebetræk, så du nemt og hurtigt kan bytte ud og mikse og matche på helt nye måder (se oversigt her).
Vær kreativ og forsøg selv med at lave dine egne puder enten helt fra bunden eller blot stryg eller syg et motiv på en eksisterende – der findes så uendeligt mange muligheder, som alle kan være med på!
Hvis økonomien ikke holder til køb af nye pyntepuder i tide og utide, så byt dig frem enten med veninder eller via diverse salgssider.