Sådan sætter du dit hus til salg hos en ejendomsmægler
Skal du sælge dit hus, så kan du overveje at sætte dit hus til salg hos en ejendomsmægler. Der er mange fordele ved at alliere sig med en ejendomsmægler, og det er en mulighed, som flere og flere benytter sig af. I denne guide vil du kunne læse alt om, hvorfor og hvordan du skal sætte dit hus til salg hos en mægler.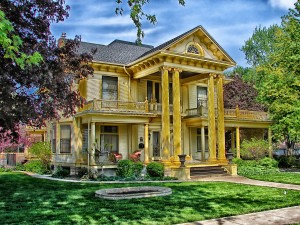 Derfor skal du alliere dig med en ejendomsmægler
Har du taget den store beslutning om at sælge dit hus, så har du som udgangspunkt to muligheder. Du kan enten forsøge at sælge huset selv, eller du kan tage kontakt til en mægler. Der er fordele og ulemper ved begge løsninger, men ikke desto mindre vælger de fleste at tage kontakt til en professionel og erfaren mægler.
Det er en stor tillidserklæring at overlade salget af sit hus til en ejendomsmægler, men det vil typisk være en rigtig god idé. Det er nemlig de færreste husejere, som har forudsætninger for at opnå succes med selvsalg. Derfor vil der være rigtigt mange fordele ved at samarbejde med en ejendomsmægler.
Prissætning – Skal man prissætte sin bolig, så vil det være fordelagtigt at have en mægler med i den proces. I den anledning får du nemlig et objektivt blik på din bolig, så prisen lander på et realistisk niveau. Det er en realitet, at den rette pris har stor indflydelse på, hvor hurtigt du kan sælge din bolig.
Markedsføring – Som boligejer har du ikke nødvendigvis et stort netværk af boligsøgende, som kunne være interesseret i at købe dit hus. Med en ejendomsmægler er du sikret bred markedsføring, så du hurtigere kan få solgt dit hus.
Professionel fremstilling – Skal dit hus fremstå så attraktivt som muligt, så er professionel fremstilling alfa og omega. Skarpe og professionelle billeder taget af en fotograf vil altid fungere bedre end billeder taget med en smartphone.
Disse praktiske og juridiske ting skal være på plads
Lav en skriftlig formidlingsaftale – Når du har fundet den rette ejendomsmægler, så skal du sørge for at få lavet en skriftlig formidlingsaftale. Her skal alle vilkår, betingelser og priser være noteret. En formidlingsaftale er en aftale, som sætter retningslinjerne for salget af dit hus. Hvis du har svært ved at gennemskue din formidlingsaftale, så kan du med fordel få hjælp fra kompetente fagfolk i branchen.
Få lavet en vurdering af huset – De fleste ejendomsmæglere tilbyder at lave en gratis vurdering af dit hus, hvor der bliver beregnet en realistisk kontantpris. I den anledning har du naturligvis også mulighed for at fremlægge dine beregninger.
Samlet opgørelse over hussalget – Når dit hus er blevet solgt, har du krav på at få udleveret en samlet opgørelse / rapporter, hvor alle udgifter og opgaver fremstår.
Det er både nemt, hurtigt og billigt at sælge sit hus hos en ejendomsmægler. Hvis du er klar på at sælge din bolig, så kan du med fordel alliere dig med en lokal ejendomsmægler, som har interesse i at sælge dit hus til den bedst mulige pris. Dermed kan du spare både tid og besvær, da mægleren varetager alle de tidskrævende aktiviteter.
Denne guide er udarbejdet i samarbejde med Aalborg Mægleren