Håndmikser test / El-Håndpisker – Din guide til at finde den rigtige
Skal du som mange andre have ny håndmikser eller el-håndpisker fordi den gamle er brugt op eller du ikke har anskaffet dig en endnu – så læs denne guide til hvor du finder den bedste og billigste på nettet. Der findes mange forskellige håndmiksere, men hvilke er de bedste til prisen og bedste i test. Vi har samlet det hele her så du ikke behøver gå andre steder hen, inden du nu køber din nye håndpisker på nettet.

I det følgende kan du læse mere om:
Håndmikser – Hvor kraftig skal den være.
Håndmikser – De bedste i test.
Konklusion.
Hvor køber jeg min nye håndmikser – Billigste webshops
Håndmikser – Hvor kraftig skal den være
Skal du købe ny maskine er det altså lidt vigtigt du lige overvejer om den skal kunne holde mere end et års tid. Følgende maskiner jeg har valgt, er pålidelige maskiner som holder i mange år. Med hensyn til effekt så skal du helst købe en maskine med en del watt, som Bosch maskinerne er.
Håndmikser – De bedste i test
Første maskine er fra Bosch, det er en:
Antal hastigheder:

5

Effekt:

450 watt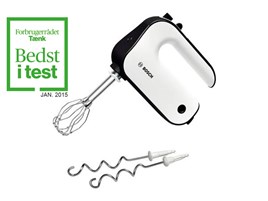 , testvinder i forbrugerrådet Tænk – denne håndmikser blev også testvinder i det Svenske Råd&Rön.
Anden maskine er også fra Bosch. Næsten samme maskine med ekstra dele:
Antal hastigheder:

5

Effekt:

500 watt

Ekstra dele medfølger – Stavblender og Hakker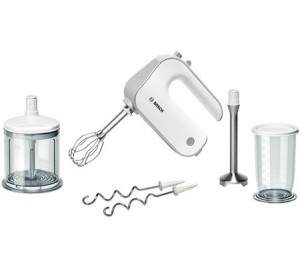 , super effektiv med ekstra dele og lidt stærkere end den foregående testvinder maskine.
Tredje maskine er fra KitchenAid.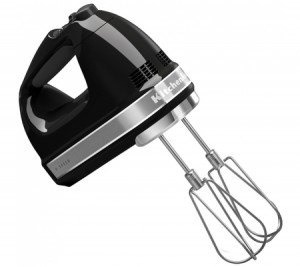 , testvinder hos MadMaskiner.dk. Utrolig smuk udført maskine, som holder i mange år. Fås i flere farver.
Konklusion
Skal jeg komme med en hurtig konklusion, vil jeg helt sikkert foretrække Bosch 4020 enten fra WhiteAway.com, Wupti.com eller KitchenOne.dk. Denne maskine er testvinder og pålidelig, og så er den ikke mindst meget billig. Det er mit favoritvalg. Der er dog ikke nogen ekstra ting / ekstra dele med, men det er mine behov heller ikke til. Jeg har andre maskiner til at blende og hakke.
Hvis du gerne vil have en maskine der skal kunne det, så kan du vælge Bosch 4080 fra enten KitchenOne.dk, WhiteAway.com eller Wupti.com. Det er en lidt stærkere maskine på effekt, med ekstra ting / dele til.
Er du til design skal du vælge KitchenAid maskinen fra Wupti.com eller WhiteAway.com. Den er noget dyrere, men det er en pålidelig og smuk maskine der holder i mange år.
Hvor køber jeg min nye håndmikser – Billigste webshops: